Slugging has been known to skin care enthusiasts for years, and despite its unusual name it has recently gained immense popularity thanks to TikTok. TikTok beauty trends are usually revealed by professionals who characterize them as dangerous or funny, but not in this case – dermatologists and aestheticians are finally united in opinion that this method has various positive effects on the skin. It's the simplest way to maintain hydrated skin, all with the use of just one product.
So, the secret to nourished and healthy skin is hidden in only one product. Could it really be that simple?
What is slugging?
Comes from the word "slug" which means snail, and it's a Korean technique that includes applying a layer of occlusive on a petrolatum basis, usually vaseline as a final step of evening routine. The technique consists of only one step, and many cite it as the secret to radiant and hydrated skin.
Occlusives are ingredients that create a protective film on the skin and slow down moisture loss which makes the skin soft and hydrated. They lock in moisture from the skin and support better functioning of its protective barrier. Vaseline has been known since ancient times and can still be found in almost everyone's bathroom cabinet. It's extremely affordable, easily available in all stores and cheap. It has a variety of uses – from healing burns and scratches to treating diaper rash. Vaseline doesn't hydrate the skin, but in this case it acts as a shield and retains existing moisture.
Vaseline isn't absorbed but remains on the skin as a kind of barrier. Other than providing a sticky feeling to your face, if you're not the type who can sleep on your back – be prepared to often pillow changes. As the name suggests, petrolatum is produced from crude oil, so there are divided opinions about the safety of it's application on the skin, as well as it's sustainability. Fortunately, there are natural alternatives to petrolatum that are much healthier for the skin – hyaluronic acid, jojoba oil, argan oil, aloe vera and shea butter are just some of the ingredients that provide the same effect as petrolatum, but are natural and  100 % safe to use.
How to use slugging?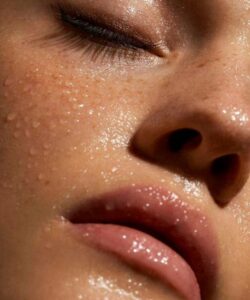 Slugging is an ideal method for normal and dry skin as it helps in restoring skin's protective barrier and helps reduce burning, redness and skin flaking. It can be used for other skin types as an occasional treatment when the skin needs additional care. It has antimicrobial effect and promotes skin healing. However, it's not recommended for all skin types, so people with sensitive skin prone to acne should avoid it. If you have combination skin, do not apply occlusive products to the entire face, but only to dry areas.
The frequency of application depends on your skin type. If you have dry skin, you can apply slugging several times a week or even daily in the winter months when your skin is particularly dry. For people with oily skin, it's recommended to apply slugging only in the winter months.
What are the benefits of slugging?
By applying occlusive as a final step of your evening routine, you achieve a healthy and youthful appearance of the skin with reduced wrinkle appearance. The occlusive barrier, other than keeping your skin healthy, enhances the effect of other products. Applying moisturizers below the occlusive barrier helps them penetrate deeper into the skin as there is no evaporation and all moisture remains "trapped" in the skin. The method itself is simple and easy to apply.
Slugging with Immortella products
If you, like us, prefer natural products – listen to our tips for the ideal evening routine that will nourish your skin and give it a healthy glow:
An indispensable step of every beauty routine is facial cleansing. Although slugging itself isn't comedogenic, if you have clogged pores or makeup residues, a reaction can occur due to trapping these particles under the occlusive layer so it's very important to thoroughly clean your face.
Applying a moisturizing Facial toner with immortelle floral water, hyaluronic acid and aloe vera will give your skin intense hydration.
For "locking" the moisture in, we suggest using our Facial oil, Overnight treatment, or Rosehip seed oil as a rich night care that deeply nourishes the skin without clogging the pores.
In the morning, clean your face with a mild cleansing gel and continue with your usual routine.
Slugging isn't reserved only for the face, but also for other body parts that need more intensive care. Apply a thick layer of Hand cream, put on cotton gloves and leave overnight. You will wake up the next day with soft and nourished hands.
Useful tips
Apply overnight – unless you are in an extremely cold and dry environment, slugging is best if applied overnight. This way you can lock moisture and other products in while sleeping.
Apply occlusive after hydrating the skin – to get the best results it's important to nourish the skin with moisturizing products, then lock them in with an occlusive to keep the moisture on your skin.
Use continuously to see the results – it takes approximately 4-6 weeks of use for the skin to start regenerating so stay persistent and continue with your routine.
Listen to your skin – slugging is theoretically suitable for all skin types. However, we believe that the best way is to listen to your skin and respond to its needs. Adjust the frequency of slugging to your skin type and condition.
We hope that we have managed to bring you closer to slugging and its benefits, and that you will include this technique in your evening routine. Wake up in the morning with nourished and revitalized skin, all with the use of natural products that are safe for your skin.
All mentioned products are available on our web shop www.immortella.eu.