With the arrival of warmer days, our skin is also becoming more radiant. We enjoy spending time outdoors, whether it is enjoying the beach or walking the city streets. We must not forget that prolonged sun exposure requires additional protection, as UV rays can accelerate the aging process of the skin and cause premature appearance of wrinkles and fine lines.
The inevitable question is: Should we change our skin care routine during summer months?
High temperatures combined with increased humidity enhance the work of the sweat glands, which makes oily skin even more oily, and dry skin appears rough. High temperatures cause increased sebum secretion which can lead to acne. For these reasons it's necessary to adjust skin care routine to summer conditions – replace heavier products with lighter ones and properly hydrate your skin. If you're not sure how to achieve this, below are some tips to prepare your skin for summer and make it radiant.
High temperatures, wind and salt, sun and air conditioners dry out our skin and it's especially important to compensate for the loss of moisture and lipids. Pink Oat mask will make mild exfoliation of the surface layer of the skin, and hyaluronic acid and lipids from oats will restore necessary moisture and hydration. We recommend exfoliating your skin 2-3 times a week, depending on your skin type and condition.
Heavy emulsions can be replaced with lighter ones to make the skin breathe easier. Regenerative cream is a moisturizing cream with a light texture that restores the necessary moisture to the skin. It contains  algae which stimulate collagen synthesis – it is ideal for light summer care. Argan, jojoba and evening primrose oil nourish the skin and make it firmer, revitalized and radiant.
Many people think that oils are too heavy for skin care, especially in the summer months because they leave a greasy mark and clog the pores. The truth is you only need to know which oil to choose. We recommend Rosehip seed oil – it is excellent because it acts on hyperpigmentation, is rich in antioxidants, quickly absorbes and doesn't grease the skin.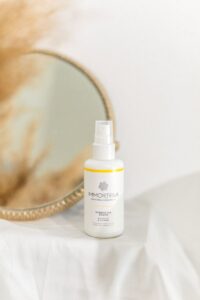 Hydration, hydration, hydration – we already know that it is important to wear creams with a protective factor, but we must not forget about hydration. A Hydrating tonic with even four moisturizers is a must have in the summer months – both for preparing the skin for applying other products and for instant refreshment throughout the day. During summer months, tonic is essential and should always be on hand to prevent accumulation of fat in the pores. Be sure to drink plenty of water in the summer months and your skin will be grateful – it'll look fresher and fuller, and you'll feel better too.
Do not forget about body care – Body lotion, although light in texture, will nourish the skin excelently during summer months, giving you nourished skin soft to the touch. Use After sun lotion after every sun exposure – shea butter and aloe vera nourish and hydrate your skin, while vitamin E and rosehip seed oil repair damaged skin and work to prolong tanning while preventing inflammatory processes.
Adjusting skin care routine is the least we can do for our skin, and she will surely be grateful. Enjoy summer and prepare for it in the best possible way – with quality natural products that will nourish your skin and help you enjoy the joys of summer without worries.
For a larger offer of our summer products visit us on our web shop www.immortella.eu.